High Speed Roller Doors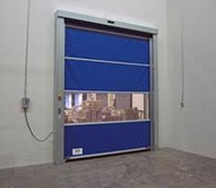 High speed doors provide valuable energy saving by maintaining room temperature, but and also reduce contamination due to airborne pollution and ingress of vermin. The working environment is also improved by controlling the traffic flow; easing vehicle access on frequently used doors and also helps to reduce noise levels and as such, we can supply internal or external variants.
Safety is always important with automatic doors and Rapid Roll Doors are supplied with two sets of safety photocells and an extremely sensitive electric safety edge - Both items are constantly monitored, providing an instantaneous stop/reverse feature, should there be an obstruction.
The door's high-speed opening and closing are variable up to 2 metres per second, adjustable through the control panel and also enables soft acceleration/deceleration feature. Methods of actuation include: Induction loops, Radio, Infra-red transmitters and Radar.
Our doors offer low maintenance technology and low repair cost, highlighted by the 'crash-out' feature which minimises cost and downtime due to vehicle impact.
The Rapid Roll Door is also available with or without vision panels and can be easily subdivided allowing only part of the opening or indeed all of the opening to be when required. Simplicity of design makes them easy and cost-effective to maintain.