Fire Exit Doors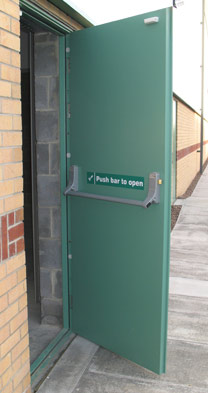 We are experts in updating, installing and repairing fire exits.
The general rule with final exit doors is that they must always be usable in the direction of exit, without the need for a key, card or code, whenever the relevant area is occupied. The final exit from a building can be secured against entry from the outside as long as it is readily openable from the inside.
Final exit doors opening mechanisms come in a variety of designs. These include simple turn key mechanisms, push bars and glass panels or ceramic tubes that need to be broken with a hammer to access a release mechanism
Whenever there is someone in the building, all the alternative exits must be available for use, without the occupant having to carry a key, a swipe card or knowledge of a digital lock. The front door of a building is often one of the alternative fire exits; if it is locked in the evening when people may still be inside, the lock must be of the type which can be opened from the inside.
From time to time, exit doors are found that are padlocked or otherwise made inoperative (outside normal working hours - or even during working hours). It is unnecessary, as well as dangerous, because there are ways to provide added security on fire exits whilst keeping the available for emergency use. Do not attempt to solve security problems at the expense of safety.